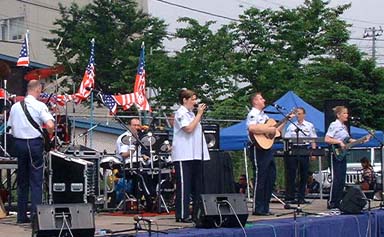 American Day festivities begin on 1 June at 6pm with a JASDF Band concert at the Civic Center.
On Sunday, the festivities begin at 9:45AM with the parade. The parade begins close to the west end of the one way shopping street (turn right at the first light outside the main gate and go up three traffic lights). From that point the parade will proceed down the shopping street toward the base. At the traffic light at American Plaza, the parade will turn right and continue down to the Civic Center and Central Park (Train park).
The opening ceremonies take place at 11a, at the Civic Center and the entertainment begins at 11am and runs throught 4pm outside the main gate, at American Park and the Civic Center area.
The main gate will be closed to vehicle traffic from 5am Saturday through the end of the festivities. All vehicles must enter and exit the base via the Levitow and POL Gates.
Schedule of events