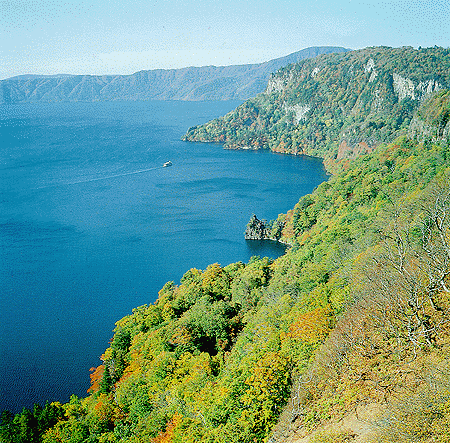 Lake Towada (Towadako) is a dominant feature in Towada-Hachimantai National Park. The lake formed in the crater of an extinct volcano. It is 326.8 meters (1072 feet) at its deepest point and covers 59.8 square kilometers (37 sq mi). It is the third deepest lake in Japan.
The lake and park attract millions of visitors each year. Surrounded by tree covered hills that are a part of the Hakkoda mountain chain, they offer scenic beauty. While facilities are available, they are clustered into groups and great pains were taken not to interfere with the natural setting. Hotels, ryokans (Japanese Inns), and campgrounds are available for those who want to spend more than a day in the area. One of these, the Towadako Hotel has an english language web site and even accepts online reservations. For more info, go to
Towadako Hotel
.
The park is especially beautiful in Autumn when the leave change colors.
Long, long ago, in Towada-Oyu, there lived a boy called Hachirotaro. He could walk soon after he was born and grew up to be a boy of great strength with a height of more than 180cm. People were surprised at how large he was and they were scared of his strength, but he was kind-hearted. He often traveled through the mountains, hunting birds and animals and gathering cherry tree bark to sell for his parents. People came to admire him as a good son.
One day Hachirotaro went into the mountains with his two friends, Sanji and Kito. After a long journey they came to a valley called Oirase. Oirase was a place in the thick forest which had a stream running under the mingled boughs of ancient trees. They made a camp beside the brook and went collecting bark for some days.
Several days later Hachirotaro had to stay at the camp because he was in charge of the cooking. He went down to the stream to fetch a pail of water and found 3 fish in the water. He caught them and broiled them for lunch. That day, however, it took longer than usual for his friends, Sanji and Kito, to return. The fish smelled good.
Hachirotaro couldn't wait for them and took a bite of his own fish. It was delicious! His big appetite conquered his self control. He ate the second fish and then the tird. He was very satisfied and fell into a trance.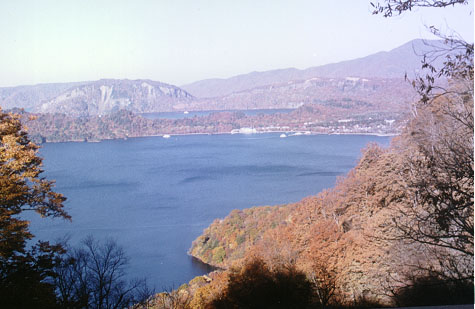 After a while he got thirsty and took a drink from the pail of water. But the water did not have any effect. On the contrary, the more water he drank, the thirstier he felt. After finishing the pail of water, he ran down to the stream. Crouching on all fours with his mouth in the water he drank without stopping.
He drank for half a day. Then he saw his reflection in the water and was shocked. His whole face has swollen up! So had his limbs! He looked strange.
In the evening, when the setting sun had tinted the mountains a rosy colour, Sanji and Kito came back to the camp. They, realising that Hachirotaro wasn't there, went down the slope to the stream and called him. Hearing their voices, Hachirotaro lifted his face. His friends were astounded by his appearance and asked with trembling voices, "What's the matter with your face?"
Hachirotaro, shedding tears from swollen eyes, said, "I cannot go anywhere. I cannot leave the water even for a moment bacause I am under a spell. I will build a lake here to live in. I beg you to take my straw hat and straw coat to my parents and tell them what you see now." His crying was so loud that it covered the sound of the brook, echoed through the mountains, and reached as far as the Hinai and Senboku districts.
Sanji and Kito were reluctant to leave the camp, but finally said goodbye. Hachirotaro watched them until they were out of sight and then continued to drink water. He drank and drank for 33 days and nights and at the end, he changed into a huge dragon.
Hachirotaro than damned up the valley, which had become a large lake, and sank himself deep into the water. But he was not able to remain in Lake Towada. Nansobo, a priest who roamed the country, challenged Hachirotaro to a fight for the right to remain in Lake Towada. Nansobo won the fight and Hachirotaro was forced to move and make his home in Hachirogata. Hachirotaro then bacame he dragon of the lagoon in Hachirogata.