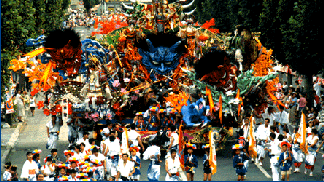 The Hachinohe Sansha Taisai Festival started in 1721, when the Great God Horyo was transbigrated to the Chojasan Sanshado Chapel (present-day Shinra Shrine. After some time, the procession came to be accompanied by floats (called Yatai) that were decorated with figures donated by powerful merchants in the domain. pageants such as the Tiger Dance prganized by city residents were also added. Eventually the event developed into a grand festival for the entire community of the Hachinohe Domain to offer prayers for the safety of the city and rich harvests.
In 1889, the festival was joined by the parades of the Shinmei and Shinra Shrines. From that year on, floats that had been decorated with the same fighres over the years wre gradually replaced by those that were build for each year, and the basic pattern of today's festival was established.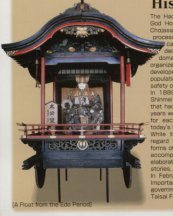 While the festival maintains tradition with regard to the route of the parade and the forms of the folk entertainment, nowadays it is accompanied by 27 auxiliary floats that are elaborately decorated based on folklore and Kabuki stories. In February 2004, the festival was designated as an Important Intangible Folk Cultural Property by the government under the name of the Hachinohe Sansha Taisai Float Festival.
31 July is the Opening Ceremony highlighted by the pre-festival taiko drum and flute competition. It begins at 6pm.
The float parade on the first of August begin at 3PM and is the Procession to the Shrine. It begins at the City Hall, passes through the center of the city and terminates at the Chojasan Shinra Shriine. On 2 August, the float paradge begins at 6pm and you can see them lit up. The route also begins at City Hall. Also on the 2nd, there is a Kagami style Japanese polo game which has been played since 1827. This takes place near the shrine.
The float parade on the third begins at 3pm and goes from the shrine to City Hall.
On the 4th, the Closing Ceremony takes place at 6pm in front of City Hall and also offers taiko drum and flute performances.